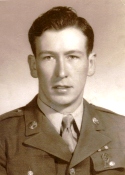 Russell was born on October 27th, 1921 in Grouse Creek, Utah the son of Charles William Kimber and Agnes Malinda Jones Kimber. He was the fifth of five sons; Eldred, Vaughn, Evan, Myron and Russell.
He married Emma LuRae Cranney on April 21, 1951 in the Salt Lake Temple. LuRae and Russell are the parents of four children; Duane Russell, Jannie Lynne, Mark C. and Jed William. LuRae passed away January 13th, 1988.
Russell married Gwen Nies on August 3, 1989 and they later divorced.
On August 24th, 2002 Russell married Sharon Mower Madsen and had a special and loving relationship.
Russell served in the U.S. Army with General Patton's Tank Corp during World War II. His military service was a very important part of his life.
Russell was an active member of the Church of Jesus Christ of Latter-day Saints. He served in many positions and was high priest group leader at the time of his passing.
He enjoyed the outdoors and the sight of a big buck was a great joy to him. Russell always had horses and spent years in the Twin Star Riders, a riding club in Davis County.
Russell passed away suddenly of a heart attack in Grouse Creek on September 13th, 2008 and is buried in the Farmington City Cemetery.