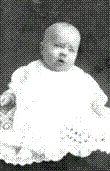 Edward Cleon Lucas was born July 4, 1911 the oldest son of Orilla Amy Jorgensen and Charles Edward Lucas in Hyde Park, Utah.  His parents were living in Grouse Creek at the time of his birth, but Orilla returned to her parents' home to have the baby.
His father's first wife had passed away from complications of childbirth just 20 months before.  Edward had an older sister, Elva Eunice Lucas and Bertram (Bert) Inkerman Lucas so he never really was the oldest child.
He grew up very quickly because his mother had a set of twin girls just 2 1/2 years later, on December 2, 1913.  The twins were very small because they had arrived about six weeks early.  They needed a lot of special care.
Five year old Elva and not quite three years old, Edward was outside enjoying the spring weather.  In their exploring they found some parsnips in a nearby ditch.  They, like most children, decided to enjoy the fruits of their labor and ate them.  Unbeknown to them the parsnips were poisonous.  Both children became very ill.  Edward being so young could not fight the poison.  He passed away on May 1, 1914.  Elva was ill for several days, but was able to fight the poison.  The only joy about that tragedy was that they only lost one child.
Edward was laid to rest in the only country he had known, Grouse Creek, Utah.  His Uncle Henry Maiben Lucas and his father's first wife, Ethel Maude Greenaway Lucas, were already buried there.
Many years later his mother said his death was harder on her than anything she could remember.  She never got over the death of her young son.