GROUSE CREEK CEMETERY HISTORY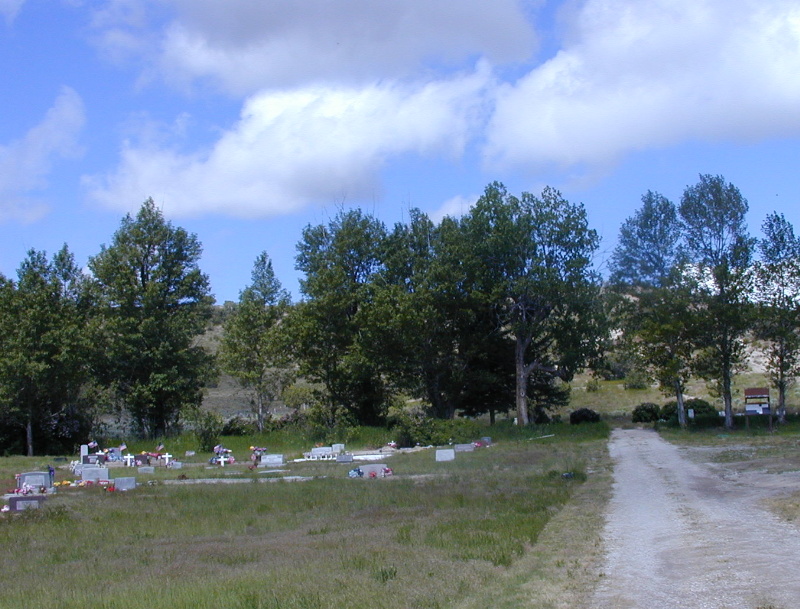 This little rural cemetery is located in the northwest corner of Box Elder County, a few miles from the Idaho border and a few miles from the Nevada border.
In 1921 the State of Utah issued a patent deed to Charles C. Toyn and his wife Ellen for a large piece of property in Section 35, Township 12 North Range 18 West that included the present cemetery location.  In 1931 Charles C.  Toyn and his wife Ellen deeded a plot of this ground for the cemetery to the Latter Day Saint church, recorded in Book 37, page 173,  Identification no. 06-091-0011,  Box Elder County Court House in Brigham City, Utah.
About 1975-76 the community formed a committee to improve the cemetery.  Ed Harris was named Chairman.  Committeeman Winfred Kimber obtained a permit to drill a test well.  The property line was right up to the grave sites.  Emma Blanthorn donated a 20-foot strip of land along the west side of the cemetery to the LDS church to provide room for the well.  The well was unsuccessful, Identification no.  06-091-0010. The cemetery has never had enough water to plant and maintain a lawn so the landscaping has been done with hand tools and hard labor.
In 1995 the church decided to relieve itself of the cemeteries. In order to deed it to a legal entity a meeting was held and the town's people decided to have it deeded to the Grouse Creek Coop with the understanding that when a legal entity was formed it would be deeded to that entity.  A Grouse Creek Cemetery Maintenance District was formed and on November 17, 1995 a deed was recorded transferring the property from the Grouse Creek Coop to the Grouse Creek Cemetery Maintenance District, Book 0638 Page 0175. Box Elder County Courthouse.
The cemetery is a beautiful spot, with a stream running through it and trees along the banks.  A table with benches was built by Verl Smith, David and Eldon Kimber and placed in a shady spot for the convenience of the visitors.  A row of pine trees was planted along the front fence by Verl Smith, Colby Boyd and Garet Wirick.   Last year, 2016, Shawn Flinders built some very nice iron benches as his Eagle Scout Project, to be used around the cemetery.  A few years ago, Clint Flinders built an information booth as his Eagle Scout Project.   This contains a listing of grave sites and a list of names honoring the veterans connected to Grouse Creek. A patio of native rock was built to support the booth with two decorative benches furnished by Reed and Karla Beecher to be placed there.  The rock patio was constructed by Charles (Chuck) Kimber, Susan Wirick, Karma Allred, Jon Mecham and Verl Smith.  Many, many people donated money for a rock plaque honoring those who served and for a nice flag pole to set on the patio. So much love and work have gone into this little cemetery.  Jay Tanner has used his back hoe free of charge for many, many years for the burials. Many people, too many to mention, have worked and supported the activities here. Sharon Kimber has published a book listing all the grave sites, the obituaries and information about everyone in the cemetery.  This is a wonderful, informative book.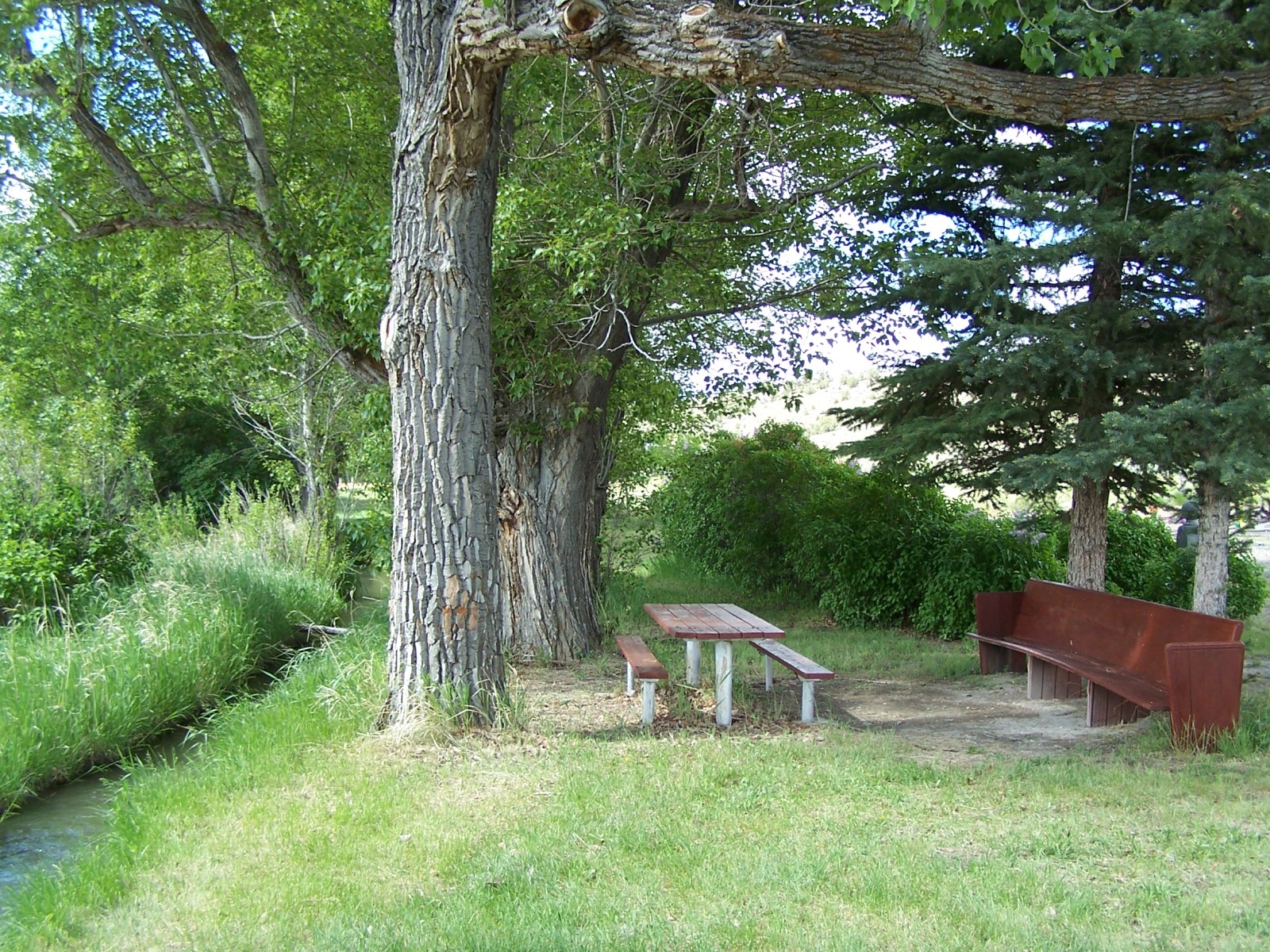 What a great experience, according to Verl T. Smith, who has mowed the cemetery for many years, to ride the lawn mower around and recognize all the prominent people that have been a part of the Grouse Creek Community.
In one corner are the wife and child of Sam Kimball, Son of Heber C. Kimball, and the first Bishop in Grouse Creek.  In another corner is some early American Indian graves, marked by big rocks until a few years ago when a member of the community, Archie Toyn, made some headstones for them.  In one of the graves is Jennie Jack, wife of legendary Grouse Creek Jack.  The others are identified with Indian boy or Indian girl.  Some of the graves contain early settlers who traveled from across the ocean to America, some had continued on to Utah and some of those had traveled across the salt flats around the Newfoundland Mountains to Grouse Creek, leaving tracks from their wagon wheels and some leaving shoes that had stuck in the mud.
So many of them had dug ditches and piped water from the mountains for the community, had hauled logs to make homes, built schools, churches, stores, telephone lines.  They were the ranchers, Bishops, school teachers, musicians, merchants, nurses, midwives that had delivered many of the people buried here, seamstresses, one a veteran of the Civil War, some veterans of World War I, some Veterans of World War II and some Veterans of the later wars and some because they plain fell in love with the place.
Before Memorial Day people from all over come to help make it beautiful and to honor their dead.  The LDS church plays a big part in this event, furnishing lunch and encouraging their members to participate.
It was always a big day on Memorial Day and as a child I looked forward to it.  Always hiking the hills, the week before to gather wild flowers for all the graves, getting together at the cemetery to visit and participate in decorating. It has always been a great tradition for me and I think it is carrying on with my family.
The first Maintenance District consisted of Richard Kimber, chairman, Jay Tanner and Delma K. Smith as Directors, Verl T. Smith as secretary and then Susan Wirick as Director, taking the place of Delma K. Smith.
Written by Delma K. Smith for Prickly Pear Camp of the Daughters of the Utah Pioneers, Washington Terrace Utah
October 2017